The company Enikon-mont, which until May of this year was owned by Zoran Stevanović, a member of the National Assembly of Republika Srpska (NSRS), has entered into contracts with public institutions totalling 3.6 million KM over the past two and a half years.
"I need to verify that; I don't think that's accurate. But, I will check now," Stevanović said in a brief conversation with Valter portal.
During our conversation, Stevanović mentioned that he sold the company "sometime this year," but he wasn't sure of the exact timing. He directed us to the company's director, Branislav Jović, who was supposed to provide more information about the procurements and the timing of Stevanović's stake sale.
Jović informed the Valter portal that Stevanović had a stake in the company until recently, until May of this year, and that out of the contracted amount of 3.6 million, slightly less than one million marks had been realized.
Enikon-mont primarily engaged in contracts with RiTE Ugljevik, amounting to over two million marks. According to Jović's information, 751,000 marks have been realized so far.

The Law on the Prevention of Conflict of Interest in the Authorities of Republika Srpska (RS), which is supposed to define the (im)possibility of businesses owned by public officials to engage in certain transactions, is vague and impractical in this and many similar cases. The part that states the impossibility of businesses conducting transactions with government bodies exceeding the value of 30,000 marks does not specify cases where officials are partial or complete owners or founders of those businesses.
The current law also allows for resolving conflicts of interest within a given period by the official resigning from their position in the company. Valter portal obtained data from 2012, when it was determined that Stevanović was in a conflict of interest because the company Vitinka conducted business with public institutions. Within the given period, he left the company and resolved the conflict of interest without facing any sanctions.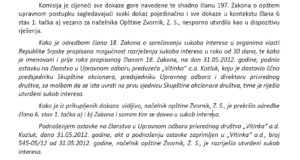 Inaccurate legal provisions and the absence of sanctions have allowed officials to conduct business with government bodies and generate millions in profits through public procurements without hindrance.
MILLIONS CONTRACTED THROUGH PUBLIC PROCUREMENTS
Zoran Stevanović became a member of the Alliance of Independent Social Democrats (SNSD) in 2006, and a year later, he assumed the position of the mayor of Zvornik Municipality.
According to the data from the Central Election Commission (CIK) and the database of the Centre for Investigative Journalism (CIN), Stevanović has had around ten companies in Bosnia and Herzegovina and Serbia since taking office. Today, he states that most of these companies are either "struggling" – not generating any income – or completely dissolved.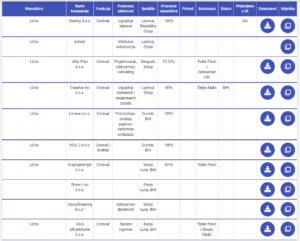 "Many of those companies were created ad hoc for a specific job to be completed and were subsequently dissolved… Do you understand? There is no need for any suspicions; I am not a fraud," Stevanović responded to our question regarding his companies.
In his initial asset declaration submitted to the CIK in 2008, he stated that he had shares worth 160,000 KM in the company Enikon-mont from Zvornik.
After that, he was re-elected as the mayor of Zvornik four more times, and in the asset declarations he submitted to the CIK in 2012 and 2016, he did not mention this company until his most recent term when he stated 50% ownership in January 2021.
"Listen, let me tell you, if you need anything, whether you want to patch me up or whatever, just call me when I'm in my own zone, on the phone. I will tell you everything, and you can write it down. I have no problem with that. As the mayor of Zvornik in 2007, when I had just started, I had five million marks in my private current account. I don't steal anything, nor am I interested in that," Stevanović replied when we sought clarification on the information about the shares mentioned in 2008 and the mentioning of the company again in 2021.
According to the data from the Business Entity Register, Stevanović was registered as a founder in 2021, with a note that part of the company's records was destroyed in floods.
According to the information provided to Valter by Branislav Jović, the company's director, Stevanović was a co-owner of the company from its establishment in 2007 until February 2010. Then, again from February 2021 until May of this year.

Since January 2021, when Stevanović included this company in his asset declaration until today, Enikon-mont has entered into contracts with public bodies, including mines and power plants such as Ugljevik and Gacko, the Zvornik Waterworks and Municipal Services, the City of Banja Luka, and the Zvornik Hospital, with a total value of 3,614,570 KM.
"Oh, that's impossible, that's not true. Everything I do with the state is just participation, I work on some electro filters… Ugljevik and Gacko power plants. And hardly anyone else does this kind of work in this area, and they do it, and it's worth 200-300 thousand marks. No more," Stevanović said to Valter.
According to the data from the public procurement portal of Bosnia and Herzegovina, the business portal Akta.ba, and the official websites of public institutions, the value of the contracts ranged from 980 KM to over 470,000 marks. Most of the contracts were awarded through open procedures, in which Enikon-mont was the sole bidder.
Director Jović explained to the Valter portal that only a portion of the contracted work had been realised in practice (in the amount of 997,534 KM). In the provided data, in addition to the aforementioned contracting bodies, Jović also mentioned business dealings with the Ministry of the Interior of Republika Srpska, Zvornik Stan Zvornik, and KSC Zvornik.
Based on publicly available information about the contracted work, the majority of contracts were concluded with RiTE Ugljevik for the maintenance and removal of deficiencies in the electro-filter plant, maintenance of the ventilation system, and crane services. From mid-March 2021 to early May 2023, they entered into 19 contracts with a total value of 2,297,060 KM.
"I need to check that, I don't think that's true. But I will check now. I don't know what your sources are," Stevanović said in a phone conversation.
Jović claims that these are framework agreements based on which contracts are signed, and the final amounts are lower than the stated sums.
Services and goods for the revitalization of the electro filter plant for regular maintenance in 2021, 2022, and 2023 in RiTE Gacko amounted to a total of 378,980 KM. Jović states that out of that amount, 229,216 KM has been realized so far, and they have not yet signed contracts for the agreed work for this year.
"That is a participation in the general overhaul, probably," Stevanović commented briefly.
Together with Enikon-mont, a group of bidders consisting of Procesna oprema inženjering from Laktaši, Progres-gradnja, and ABC Solutions from Banja Luka, contracted construction works for the construction of an observation deck on Banj Hill with the City of Banja Luka this year. Firstly, in March, the contract was worth 460,388 KM, and then in May, it amounted to 470,085 KM.
Jović says he forgot that they were part of the consortium for this procurement.
"But we were part of it to cover the consortium with our license, we didn't do anything or realize anything, that's why I didn't record it," he explains.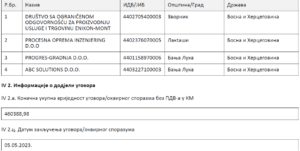 The Waterworks and Utilities of Zvornik entered into a contract with Enikon-mont in June 2021 for the renovation of the truck body upgrade on a Mercedes truck model '16-17', with a value of 7,074 KM. In this case, Jović provided information that is 200 KM higher compared to publicly available data.
The Law on Conflict of Interest in the Authorities of Republika Srpska (RS) stipulates that elected representatives, executive officeholders, and advisors, during their term of office and three months thereafter, cannot be members of the management and supervisory bodies of a company that engages in business with the authorities in contracts or transactions exceeding 30,000 KM.
Due to the vague regulation that is not applicable in practice, Transparency International in Bosnia and Herzegovina (TI BiH) has been advocating for the adoption of a new law that will be more specific, encompass a wider range of individuals, and regulate additional situations that constitute conflicts of interest and incompatible functions.
The Law does not mention the terms "owner" or "founder" in any percentage of companies, but only "member of the management board, supervisory board, or director of a company." Conflict of interest is excluded for contracts worth less than 30,000 KM.
Therefore, we contacted the Republic Commission for Determining Conflict of Interest in the Authorities of RS to clarify how they handle cases when a company owned, partly or entirely, by a public official conducts business with public institutions with individual contracts exceeding 30,000 KM.
They responded that the requested information is "not under the control of this public authority" and that they are not competent to interpret these legal provisions.
"Authentic interpretation of certain legal provisions can only be provided by the legislator, i.e., in this case, the National Assembly of RS," they stated."
A REGULATION THAT FAVOURS OFFICIALS
In addition to being vague and ambiguous, in cases where a conflict of interest is identified, if the official in question resigns from their position in the company that conducts business with public authorities within the specified timeframe, it is considered that the conflict of interest has been resolved, as explained to us by the current regulation from TI BiH.
According to information obtained by the Valter portal, in September 2011, the Securities Commission of Republika Srpska (RS) submitted an initiative to the Commission for Determining Conflict of Interest to establish the existence of a conflict of interest involving the former mayor of Zvornik, Zoran Stevanović.
From February 2007 to March 2012, the company Vitinka a.d. Kozluk, in which Stevanović held positions as president, member, deputy chairman of the board of directors, and owner of 6.80% of voting shares, conducted business with the Administrative Service of the Zvornik Municipality while Stevanović was the mayor, and the total value of the transactions amounted to 34,681 KM.
At that time, the RS Government provided information showing that Vitinka had conducted business with republic-level public institutions and organizations from January 2011 to March 2012, with a total value of 285,503 KM.
Based on this information, it was determined that Stevanović had violated the Law on Conflict of Interest in the Authorities of RS.
However, since the Law allows for the resolution of a conflict of interest within a 30-day period, Stevanović resigned from the Board of Directors of Vitinka a.d. Kozluk even before the aforementioned deadline, and it was stated on July 6, 2012, in the final decision of the Commission that he had "resolved the established conflict of interest."
According to the Law, public officials have a 30-day deadline to resolve a conflict of interest by resigning from the incompatible position. If they fail to do so, as clarified by TI BiH, the Commission sends a final decision to the Central Election Commission (CIK), which will deem the official ineligible to run for any directly or indirectly elected position for a period of four years from the issuance of the final decision.
The Law also stipulates penalties for elected representatives, executive officials, or advisors who hold incompatible positions in a business entity, ranging from 500 to 1,500 KM.
Considering the substantial benefits that officials gain from conducting business with public authorities and the possibility of resolving a conflict of interest, these penalties are meagre. However, even as they are, they do not serve their purpose effectively.
Due to the flawed legal solution, the Commission for the Prevention of Conflict of Interest issued a legal opinion stating that it is not authorized to impose sanctions prescribed by the Law.
"In this regard, the Commission believes that the legislator failed to regulate this matter and did not grant the Commission the authority to impose any sanctions, except for determining whether a violation of the law and a conflict of interest have occurred or not," explained TI BiH to Valter portal.
Thanks to such a legal solution that allows for the resolution of conflicts of interest without valid sanctions, with guaranteed benefits, officials have no reason to consider whether they are in a conflict of interest when doing business with public institutions. Zoran Stevanović has extensively utilized this situation to his advantage over the years.